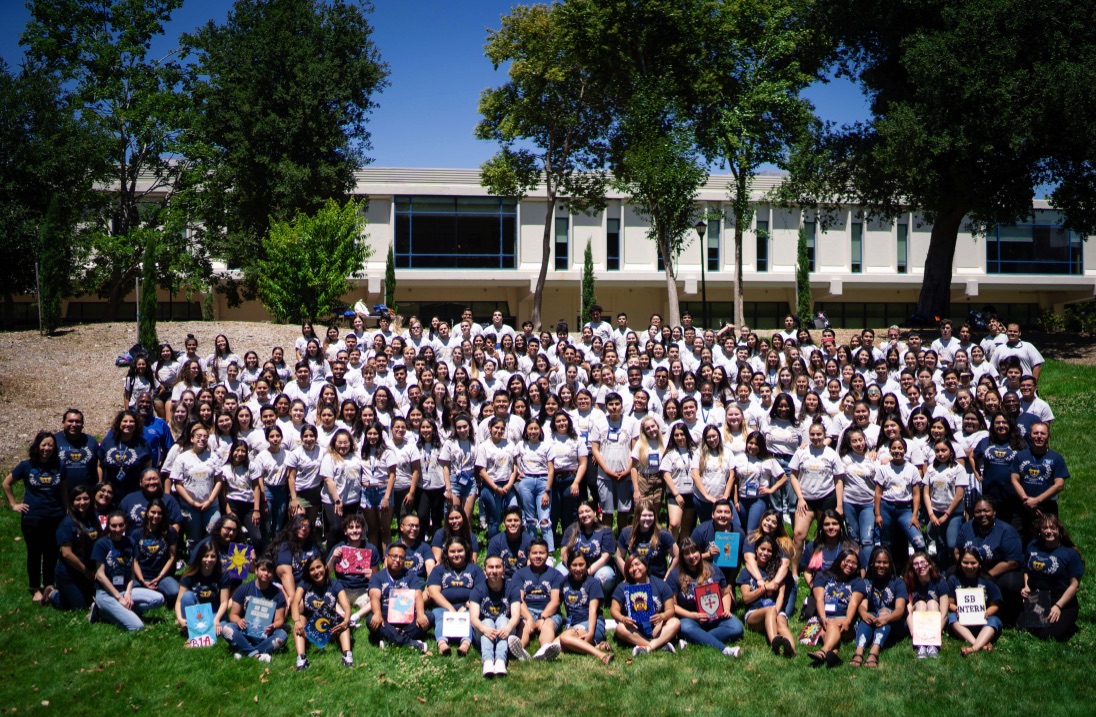 First-Time, First-Year Students
Accept your EOP admissions offer as soon as possible, as space is limited and is on a first-come-first-served basis. To secure your EOP spot at SSU, please accept Sonoma State's admissions offer, by 1) paying your $50 reduced ERD deposit, and 2) registering for the online Summer Bridge Orientation Program.
What is Summer Bridge?
Summer Bridge is an exclusive online summer orientation program for EOP, DREAM Center, PUERTA, and Seawolf Scholars,  first-time, first-year students transitioning from high school to Sonoma State University. As an SB participant, you will have the opportunity to connect with other incoming first-time, first-year EOP/DREAM Center/PUERTA/SWS students, faculty, and professional staff. Participants will receive advising and mentoring, and the chance to familiarize themselves with SSU and the surrounding communities. We invite you to watch our Summer Bridge video to learn more about the program. 
What is the purpose of Summer Bridge?
The primary focus of Summer Bridge is to give students "a taste" of university life, connect them to campus resources, provide them with opportunities to create supportive relationships, and register for their fall courses.
When does Summer Bridge start?
2021 Summer Bridge Program is a fully remote/online program from Tuesday, July 6th to Tuesday, August 3rd, 2021.
What is the time commitment for Summer Bridge?
 Summer Bridge participants are being advised to be available Monday through Friday, from 9 am - 5 pm, in order for them to successfully complete the Summer Bridge Program. 
Am I required to attend Summer Bridge?
Attendance and completion of the full Summer Bridge program are expected of all incoming first-time, first-year students. If, for whatever reason you are unable to participate in SB, please email Summer Bridge for assistance. 
Please note: To ensure the health and safety of our students, SB will be an interactive remote program this year. Workshops and activities will typically run from 9 a.m. ‒ 4 p.m. Upon successfully completing Summer Bridge, you will receive six units of college credit.
What do I do if I cannot make a remote SB session/activity/workshop due to work or other important obligations?
Given the circumstances of our global environment and the destabilizing impact it has brought to our campus community, SB remote is designed to be flexible for equitable learning space. SB sessions/activities/workshops will be provided in both live and recorded formats. Therefore, you are able to join in or do your work at your own pace and on your own time.  
What does Summer Bridge cost to attend?
SB is provided at NO COST. 
How do I register for Summer Bridge?
Admitted EOP students must sign-up for Summer Bridge Orientation by June 1. In order to be eligible for June registration, you must complete the following:
Pay your Enrollment Registration Deposit to SSU before May 1 (Priority deadline April 11, 2021).
Register for Summer Bridge before May 1 (Priority deadline April 11, 2021).
SB is a first-come, first-serve program; please do not risk the chance of being placed on a waitlist. Register for the remote 2021 Summer Bridge Orientation. 
Can my parents or guardians participate in Summer Bridge?
Summer Bridge is currently available for incoming first-time, first-year EOP students only, not parents or guardians. If parents or guardians have general questions or concerns, they should contact EOP by email.
Do I need to attend Sonoma State's Summer Orientation as well as Summer Bridge?
No, you do not need to attend both summer orientations. You will only participate in Summer Bridge. 
When will I register for classes and will someone assist me?
With the support and assistance from your assigned Summer Bridge advisor, you will register for your fall classes during Summer Bridge. 
Who can I contact if I have questions regarding Summer Bridge?
For any questions whatsoever about Summer Bridge, please email Summer Bridge. 
If I do not pass an A-G high school course with a grade of a 'C' or better, will my SSU and EOP/PUERTA Admissions be canceled?
In the event you do not pass a class, please email Jesus Garcia-Valdez, EOP Admissions Coordinator. He will help you navigate this process. 
What is Directed Self-Placement?
Directed Self-Placement (DSP) is a literacy placement exam consisting of college-level reading and writing assessments. DSP is required of all incoming first-year students. Students who received or anticipate receiving a score of 3 or above on either the AP exam for English Language and Composition or English Literature and Composition should still log into DSP to confirm their AP status. 
The Directed Self Placement is used to determine which English class you should take during your first year at Sonoma State. 
The DSP is due on June 5 for Summer Bridge participants, but we request our students complete it as soon as you receive it. 
Do I need to register and participate in Early Start English and/or Math? 
No, all Summer Bridge participants are exempt from Early Start and are NOT required to sign up for Early Start.