EOP Leadership Opportunities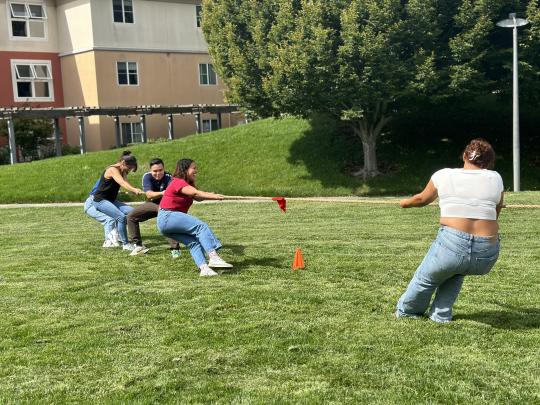 EOP Student Assistants
Applications for the following positions are available on Handshake as positions become available. Please come by the EOP office or email eop@sonoma.edu for details regarding the actual process.
EOP student assistants gain professional skills while working towards their undergraduate degrees. Some of the tasks they perform include:
answering a multi-line telephone 
taking accurate messages or referring callers as appropriate
making appointments for students
making phone calls to remind students of appointments 
informing users of program services and directing them to the proper resource 
accurately filing and retrieving student files
performing simple data entry
photocopying, sending faxes, making campus deliveries
performing other basic clerical tasks as needed
The required work skills include:
customer service skills
ability to work independently
learn new information quickly
follow complex directions 
familiarity with office protocol, including confidentiality, punctuality, and professionalism
strong alphabetization and computer typing skills
Priority will be given to applicants who have overcome barriers like those confronting program participants. Average work hours are 5-10 per week.
EOP Admissions Student Ambassadors
The EOP Admissions Student Ambassadors assist with tracking EOP application materials, answering the EOP Admissions phone line to answer general EOP admissions questions and refer other calls to staff, and gathering application materials from the SSU Office of Admissions. The ambassadors work under the direction of the EOP admissions coordinator.
Applications for the following positions are available from EOP in September. Please come by the EOP office or email applyeop@sonoma.edu for details regarding the process.
Summer Bridge Leader
Summer Bridge Leaders help organize, facilitate, and supervise recreational and academic activities, as well as provide support and guidance for approximately 300 incoming first-time, first-year students. SBLs will oversee and actively participate in the program for the remote and on-campus residential experience. SBLs must be close to the university to fulfill their responsibilities for the on-campus residential experience.
2023 Summer Bridge Leader Info Sessions
Interested in being a Summer Bridge Leader? Want to enhance or develop your leadership skills? Then join us during one of our Summer Bridge Leader Info Sessions! 
During this time, you will learn about the application process and what it means to be a Summer Bridge Leader and have any questions or doubts answered you might have about this exciting position! We'll have former Summer Bridge Leaders present to share their experiences! You don't want to miss it! 
To learn more about the SBL position, dates, and how to apply, students must create an account through Handshake. View the job posting. 
Join us for any of the info sessions below:
In-Person Sessions
Wednesday, November 9, 2022, 5 - 5:50 pm
Tuesday, November 29, 2022, 12 - 12:50 pm
Location: CAASE Lounge Schulz 1106
Remote Sessions
Thursday, January 26, 2023, 12 - 12:30 pm
Wednesday, February 1, 2023, 5 - 5:50 pm
https://sonomastate.zoom.us/my/ssusummerbridge
If you have any questions, please reach out to Valerie Olivares at olivaresv@sonoma.edu or Salvador Garcia Vigil at garciavigi@sonoma.edu.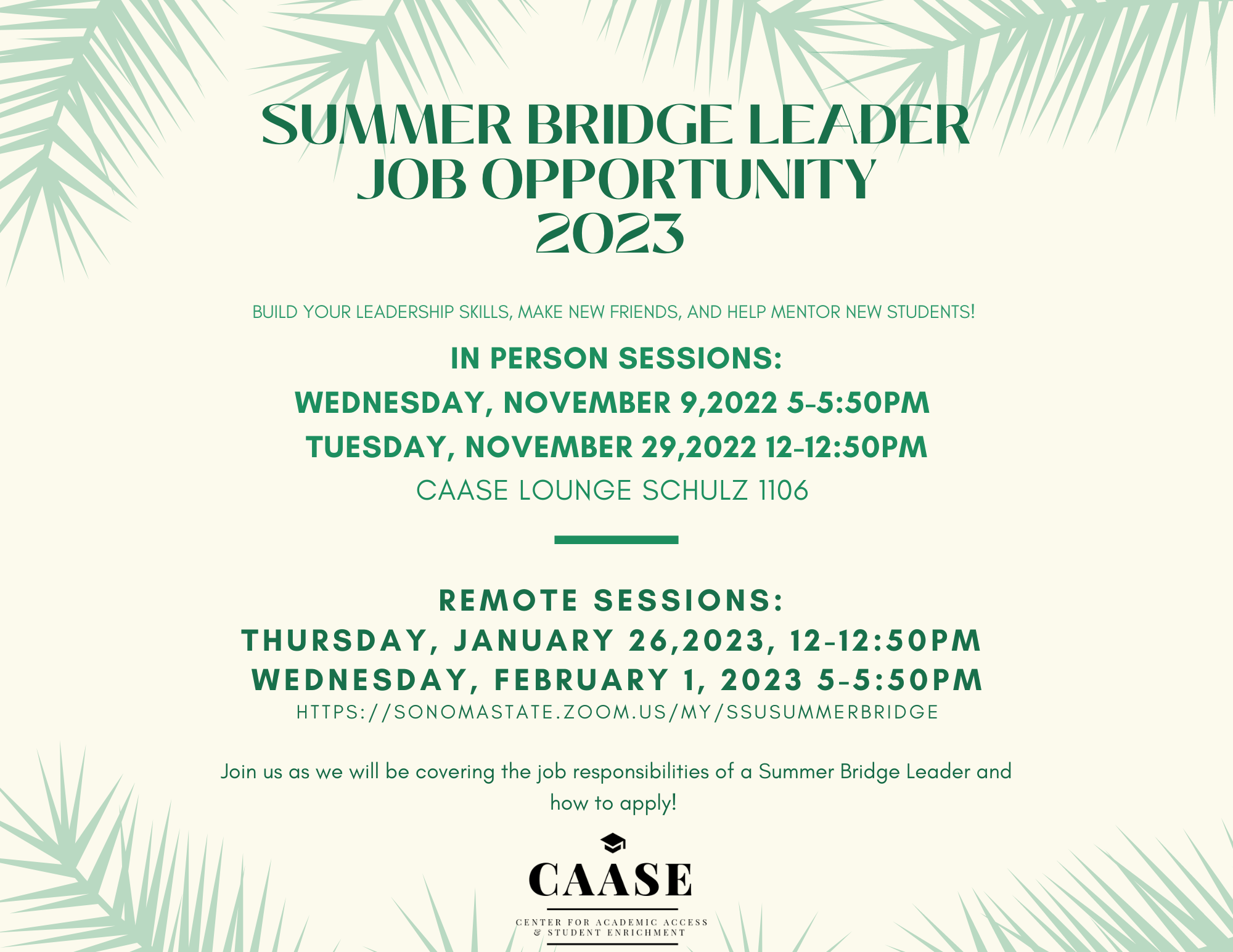 EOP Peer Mentor
Peer mentors are continuing students expected to work closely with a cohort of students in their first year at SSU. A peer mentor is assigned 22-25 students whom they connect with on a regular basis. Peer mentors also participate in and help facilitate personal development and academic activities. Peer mentors meet with their assigned students and work on activities related to the program, totaling 10-15 hours per week.